Advertise on We Are Brighton
WeAreBrighton.com is run by fans of the Albion for the benefit of all fellow supporters of the club. We run the website for the enjoyment and not as a profit making venture. The costs to run the site are growing and there are many improvements that we'd like to make if we had the funds.
Why advertise with us?
We Are Brighton is of course a highly targeted niche website, attracting visitors predominantly in the Sussex area.
From the beginning of the 2011/12 football season the site has experienced rapid growth
with visitor numbers that will prove very attractive to advertisers.
If you are a company or business person that serves the city of Brighton or the county of Sussex, then We Are Brighton can be a great match for your online marketing strategy.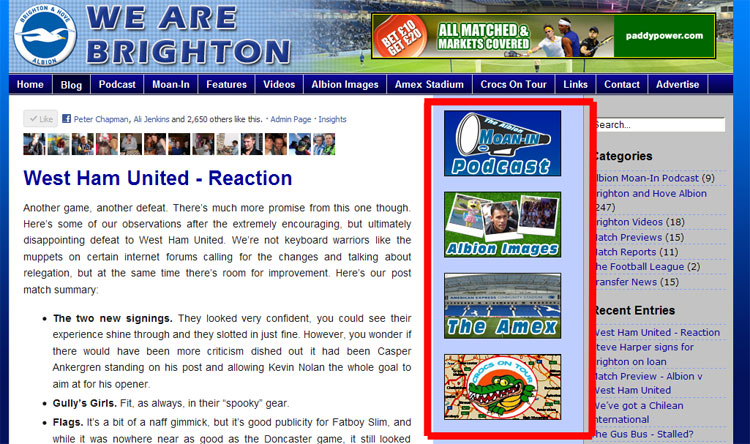 Advertise on our Blog
We currently have four 160 x 90 pixel spots and one 468x60 pixel banner available on a monthly basis on our
Blog
.
Pricing
160x90 advert = £20 per month, £50 for 3 months.
468x60 banner = £30 per month, £75 for 3 months.
We are charging
a flat monthly fee
for advertising and
not
on a CPM or CPC basis. The minimum advertising term is one month.
The We Are Brighton Blog receives the most traffic out of all the sections on the website. Its where all the match previews, reports, transfer news and other up-to-date information appears. We notify our 2,800+ Facebook page fans and 5,800+ Twitter followers of all updates. We are now also part of the 'NewsNow' network which has seen our site traffic boosted by over 40%
The 160 x 90 pixel adverts spots all appear 'above the fold' for maximum visability. They can be static images or animated. You are welcome to provide your own graphics or we can design one for you on request.
NEW - The Supporters Wall
For those on a tight budget, then our
Supporters Wall
may be perfect for you. You can place a 120x60 pixel advert on this page for just a small annual fee of just
£10
!
Advertisers are welcome to purchase multiple blocks on the wall in order to display a bigger advert
Links to the supporters wall will be placed across the website and on our social media pages.
Head on over to the
Supporters Wall
for more details and purchasing information.
If you'd like to advertise on wearebrighton.com then please email webteam@wearebrighton.com

We are also open to other advertising proposals throughout the website that you may like to present us with.