View from the South Stand - Crystal Palace 27/09/11
Brighton and Hove Albion host their best friends Crystal Palace on Tuesday evening as the Amex gets to experience its first real derby atmosphere.
We asked Stephen Bridle - Web Editor at www.fiveyearplanfanzine.co.uk to answer some questions for us ahead of this gigantic match.

This is obviously the first game we looked out for when the fixtures came out. What are the excitement levels around Sellhurst like?


I think it was very much the same for us, especially for this fixture - knowing everyone who wanted a ticket wouldn't be able to get one. But the club have laid on a beam-back event at Selhurst Park for those who couldn't get hold of a ticket so hopefully they'll be able to enjoy the game anyway. Excitement is high here, but expectations are varied - so whatever happens someone's going to be surprised.
Obviously we're going to have to talk about Glenn Murray. How has he began life
for Palace and what is the general fan reaction to him?
He's only scored one in four starts for Palace so far this season, but has come close on quite a few occasions and I'm sure it's just a matter of time for him. He quickly endeared himself to Palace fans with a few match running performances. He's been played as a lone striker a few times and had a magnificent game against Wigan in that role. He really ran Palace's entire attack: holding up to ball, making some clever runs and bringing the best out of the midfield.
Palace have a very good track record for brining through good, young players. Who are the latest on the production line we should be looking out for?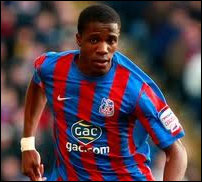 At the moment it'd be Wilfried Zaha and Jon Williams. The duo have recently signed long-term deals with the club, which is promising as we're getting a bit fed up of Premiership clubs coming in and taking the best of our youngsters. Zaha plays with England U19s every now and then and "Joniesta" Williams - as his former youth team colleagues have dubbed him on account on his skill and the way he plays the game - plays for Wales U21s. Out of the two, you're most likely to see Zaha on Tuesday evening. He's really gone on to cement his place in the first team this season after breaking on to the scene proper last year. He's scored three so far this term, but the main threat the 18-year-old poses is the ability to take on multiple players before delivering a dangerous ball across the face of goal from the byline. You've been warned!
A few eyebrows were raised down here when Dougie Freedman got the gig but unfortunately he seems to be making a decent stab of things. How far do you think he can go as a manager?

The owners have heavily implied that Dougie's appointment was one made for the long haul and that whatever would've happened last season, were we to be relegated for instance, that he was safe in his job. He's obviously a Palace legend so he was instantly accepted by the fans, even if a few were a little sceptical to begin with. I think he's done a good job so far and I think he'll go on to be a great manager. It's a position he's settled into quickly and quite naturally, but he's only just started so we'll have to wait and see how he gets on in his first full season in charge. One positive to having him in charge at the moment is he knows the importance of tomorrow's fixture to the fans, having played in a few Palace v Brighton games himself - and scoring a few times in the process.
We've obviously got our shiny new stadium. Can we be expecting to visit a new Palace ground anytime soon?
It's part of the new owners' plan to mo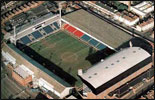 ve the club back to its spiritual home in Crystal Palace Park at the site of the current national athletics track. Though we haven't had much news on the project recently, last season we were treated to an announcement with a few pictures of a very modern looking 25,000 seater stadium with a view to build the foundations deep enough to allow an expansion of up to 40,000.They've said we could expect to be sitting in a brand-spanking-new stadium as early as 2015. I'm a little more pessimistic then they are concerning the date, but am looking forward to it all the same. It's going to be difficult to leave Selhurst Park with all its history and atmosphere - but we can't always let tradition get in the way of progress. Sometimes you have to rip the plaster off quickly.
Who should we be looking out for in the Palace side on Tuesday night?
See answer to question three. Wilfried Zaha.
Simon Jordan has mainly be regarded as an extremely strong word that we couldn't possibly use on a family friendly website. What is his standing among Palace fans now that he has gone?


While he was in charge we pretty much thought the same thing. He treated fans not as supporters, but as customers. Then managed to go and get the club into £20m of debt, and nearly put us out of business for good. You can't fault him for the money he put into the club, and lost, and he accepted a penny in the pound as a creditor when the new owners saved the club from extinction. Having said that he's still a massive knob, with a personality about as appealing as sitting on a particularly prickly cactus.
Where do you think Palace will be finishing this season and what would be considered a success?
I think after the previous two seasons it'll be considered a success if we avoid a scrappy relegation battle. It was hard not to hope for a little more after we had a pretty decent start to the season that saw us hovering around the play-off places, but that soon faded having lost our last three games in the league - though we have had a little more luck in the cup. I expect that we'll probably finish somewhere around midtable, which will do just nicely for me!
How much do you know about this Brighton and Hove Albion side?
We know enough to know that we need to be a bit wary. You've just been promoted and moved to a new stadium so you have the momentum at the moment and that's translated into your current league position. Not bad. In terms of seeing you play football, the two televised games last week gave us a little bit of a glimpse into what we might expect to see come Tuesday. I have to say Poyet has really got you lot playing the game nicely and I was impressed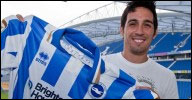 with the spirit your players showed after going behind. We passed on Bridcutt - who had a bit of a trial with us before travelling to the south coast - which now looks as if it was a mistake. He's turned into a good player. Obviously everyone knows Vicente and you've got quite a bit of talent throughout your squad, but Palace have got some real talent as well - we've just yet to settle in a real starting XI. With a little more consistency you'll see us come good by the end of the season.
Finally, a score predicition please (no 5-0's either!)
6-0. Palace.Seriously though, I think it'll end a draw. Hopefully an exciting one. I just don't see us not conceding away from home, but I can't bring myself to predict a Brighton win! We're facing you at a time when you've just come off a long unbeaten run, and you haven't won in three games - which is good from our point of view. We've won one in our last few, but are on poor form in the league. Though your recent results may not be an indication of the way you've been playing, hopefully that vein of bad luck will continue for you! Brighton 2-2 Palace

Many thanks to Stephen for his insight into the forthcoming fixture. You can follow The Five Year Plan on Twitter and send them lots of lovely tweets about the game.