View from the South Stand - Leeds United 23/09/11
Brighton and Hove Albion welcome 'The' Leeds United, Champions of Europe to the Amex on Friday night for this Championship fixture which is also being televised across the world.
We asked David from www.thescratchingshed.com to answer some questions for us ahead of the match between the European giants and Championship minnows.

There's been a number of protests in recent months about Ken Bates running of the club. Care to explain what that is all about?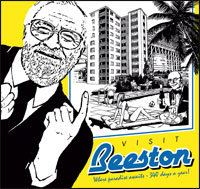 To understand the situation with Ken Bates, imagine a pressure gauge that goes up gradually with every broken promise, lie, price hike, embarrassing rant and disappearing transfer kitty. The pressure has been close to critical levels for a while now, but Bates is Peter Mandelson-esque with his spin doctoring and manages to relieve the pressure just enough to keep things ticking over with promises of "transfer war chests" and new players every time.
This summer however, the East Stand development, loss of several players and constant news of us not being able to meet the wage demands of our targets pushed a lot of fans over the edge and protests followed.
It looks like the bearded one is being very tight with money. Given all the problems that overspending has caused you in the past, surely this is a good thing or do you think a happy medium can be reached?
The Ridsdale era is his go-to excuse whenever we complain about the lack of investment. But we're not asking for £18m centre backs and unaffordable wage bills, we're asking that the fifth highest season ticket prices in the country (topped by only four Premier League clubs) be justified by the kind of spending that gets teams promoted. Unfortunately, Ken is too busy building a painless expansion on our East Stand to care.
Most fans would love cracks at the Premier League title, matches with Barcelona and runs to the Champions League semifinals. With hindsight, was the overspending to have those great days worth the ones that it led to?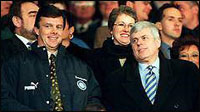 People forget that our success came largely from the players we produced ourselves, not those that were brought in for eye-watering transfer fees. Lee Bowyer, Jonathan Woodgate, Harry Kewell, Alan Smith all came through the ranks at the club. A lot of the spending in the transfer market was unnecessary and caused by the naivety of David O'Leary and Peter Ridsdale who, aside from one or two exceptions, bought a lot of distinctively average players which added very little to the squad except ridiculously high wages. A better manager could have done the same for much less, and we'd still be up there now.
Where do you realistically see Leeds's place in the English footballing chain these days?
Football has been distorted by sugar daddies, so it's hard to say. Traditionally, Leeds would be a mid-table top flight side, prone to the odd rise and fall. But nowadays, unless you're backed by someone with more money than sense, you can't really rely on the size of your fanbase and the facilities you have to restore the "natural order"
You made a decent return to the Championship last season and just missed out on the play offs. What do you think you need to do to make it a successful step up after winning promotion from League One?

We need investment in the squad. We have the core of an excellent side at Elland Road, but we're severely lacking in depth and have needed strengthening in the same positions for two years now. Unless someone starts writing cheques so we can sign the kind of players that will improve on what we already have, we'll be stuck in the Championship for the foreseeable future.
What would be considered a good campaign for Leeds this time around?
If we can finish anywhere near where we did last time round I'd be happy with that, but realistically, I think we're looking at a mid-table finish. The division is stronger this season and Leeds United haven't improved.
Gus Poyet obviously had a few happy months at Elland Road as number two to Dennis Wise. What did Leeds fans make of him during his spell there?
We always sensed he was the brains behind the operation and were all disappointed when he left. I wasn't surprised at all to see Poyet lead you to glory last season and suspect he'll continue to impress with a play-off finish this time round.
After having to suffer several wet days at Withdean on your visits to the south coast, are you looking forward to actually watching a game in Brighton in relative comfort at The Amex?
The Withdean was like watching football in the park, I always found it hard to believe I'd been charged to get in. But the Amex looks like another identi-kit bowl which I'm not a fan of either. I'd much rather see football clubs redevelop their existing stadiums, and think Brighton would have been better off upgrading the Goldstone Ground. Old grounds like that have their own identity and a sense of history, these new Ikea stadiums that are popping up across the country are only distinguishable from the next by whichever team has stuck their badge on the side.

How much do you know about the current Brighton side?
Not much, I imagine it's changed a lot since the last time we met. I know Casper Ankergren is still with you guys and that you have a young striker from Newcastle United on loan, but aside from that, I'm heading into this one pretty blind.
Finally, a score prediction for Friday please?
I'll be optimistic and go for a 2-2 draw. We won't keep a clean sheet, but we generally find the back of the net.

Many thanks to David for his insight into the forthcoming fixture. Why not follow The Scratching Shed on Twitter and tell them what you think about their Amex Stadium comments!