View from the South Stand - Peterborough United 27/08/11
Brighton and Hove Albion host a fellow promoted team in Peterborough United on Saturday. The focus of attention is bound to be on former Posh striker Craig Mackail-Smith as he faces his former team for the first time since his transfer to the Albion.
We asked Jamie from the Peterborough fans Podcast standingontheglebe.co.uk for his thoughts ahead of the game.

Last time you were in the Championship it proved to be a bit of struggle. How do you see yourselves getting on this time around?
Last time out in the Championship it was a horror show, and easily the worst of my 28 seasons watching The Posh. This time round, I have to believe we will avoid relegation, and even hope that we avoid the relegation battle. If we carry on playing our own way, like we have done so far then we will be fine. We are unbeaten at London Road since November in the league, and that needs to continue. I am going for a comfortable 14th place finish.
Having seen the Championship and League One up close in the last few seasons, what do you think are the main differences between the leagues and what do you need to do to have the success that Norwich and to a lesser extent Leeds and Millwall had last year?
I think mistakes are punished far more in the Championship than L1 and that is something that both Posh and Brighton will need to learn quickly. This league is full of teams with Championship experienced cloggers who make the game tough to play in - Palace are a fine example. I think the promoted teams that did well last season went about things in the roughly the same way that Posh, Brighton and Saints are this year. They didn't throw around £15K a week wages on the aforementioned championship cloggers, they gave players from L1 their chance to shine. I really hope it works out for all 3 promoted teams this time out. We battered Ipswich last week, a team full of experience at this level and the maddest thing about that day was that players like Chopra and Ellington looked like they couldn't give a shit.
"Never go back" is a well used term in football, as we found to our cost when Micky Adams returned. Why do you think that, so far, it has worked out again second t

ime around with Darren Fergusson?
Fergie and our chairman, Darragh Macanthony had a fiery relationship during his first spell in charge, indeed both have described it as a marriage. They separated, had a string of affairs (in PUFC's case) and now have found that the grass is not always greener and they are now back together, stronger than ever. That combination is one of our strongest assets as a football club.
Peterborough gained a bit of a reputation for being brilliant going forward and a bit ropey at the back. Is that still the case, particularly in light of the 7-1 demolition of Ipswich?
Under Gary Johnson, we were an entertaining shambles. When Fergie came back to London Road he changed the shape, gave the back four some much needed midfield cover by using the diamond formation, and it worked. We kept our fair share of clean sheets in the second half of the season, including at home in the play-off semis and again in the final. Having said that, we haven't kept a clean sheet yet this season. Ryan Bennett, our young, ball-playing central defender is another one to watch.
There is bound to be a lot of attention around Craig Mackail-Smith for this game. What was the reaction to his sale to "little old Brighton" when clubs like West Ham, Leicester, QPR and Norwich were sniffing around?
We all had this little daydream of turning on Match Of The Day and seeing CMS terrorise the overpaid Premiership defenders but it was not to be. We banked the cash from his sale, and we have to be happy with that considering he cost us £125,000. I was surprised he went to Brighton rather than disappointed. We all genuinely wish the lad all the best for the future. He will always be very welcome back at London Road…
He's begun the season really well for us so far and is already proving a big favourite with his workrate. What sort of reaction can he expect from the Peterborough support?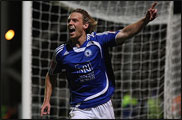 He just never gives up does he! I am pleased he has gone to a club where he is playing, is a star player and the fans love him already. Maybe if he had gone to Wigan, West Ham etc he would have been on the bench a lot and not been that team figurehead. In League One last year he just terrified defenders into making mistakes. In the last 15 minutes of games, when teams are tiring and he is still running around, he is a great threat. The other great thing about him is his willingness to work hard on his game. Two years ago, it was a running joke amongst the fans that he could not finish one on ones. He spent extra training sessions working on it, and we all got to see the stunning results of that practice last season. He will get a fantastic reception before the game, with his name sung loudly and proudly. Once the game starts, as tough as it will be, he has to become just another player. It will be very very strange hearing his name being sung by another set of fans…I am welling up just writing that.
London Road is one of our most popular away days. We noticed that when Palace visited you, the away terrace behind the goal was still in use despite reports it was going this summer. What's the situation as it is arguably the finest remaining old style stand to watch football in the country?


As I am talking to a Brighton fan, I won't moan too much about Councils, planning permissions and general ineptitude when it comes to ground matters but that away fans terracing will be coming down in Oct/Nov (only four months behind schedule. It will be replaced by a 2500 capacity all seater stand (don't get me started on that!)
Posh obviously had their fair share of visits to Withdean down the years which we can only apologise for. Are you looking forward to visiting The Amex and staying dry?
Even before CMS signed, the Amex was a ground that many Posh fans had down as "must go to" game. We should be bringing about 1700 which is pretty good for a club with our attendances. It's a shame that the game falls on the same weekend as Peterboroughs' premier cultural event (The Beer Festival), so I won't be attending the game.
What did you make of Gus Poyet and the Albion team last season in our games against each other?
I have a bit of a soft spot for Brighton thanks to the "And Smith must score…" and your ground problems so I enjoyed seeing you up there, especially with the standard of football. I honestly think that with CMS and Buckley (who I really like) you can make the top 6 this year. Your win at London Road was the beginning of the end for Tragic Johnson so in a strange way, we should thank you for that 3-0 hammering. Poyet is a rising star, but he genuinely seems to love you lot, so fingers crossed for you that he stays if a better job is dangled in front of him.
Finally, what's your prediction for the game ahead?

Score prediction is 1-1. CMS will score, definitely. I just hope he doesnt celebrate or go mad. Our main hope would be that he plays against us like he did against his other old team, Dagenham and Redbridge last season were it looked like he was trying not to score! I fancy the "White Pele" (George Boyd) to rattle one in from 25 yards for us.
Any plugging to do?
Our match preview can be heard on this weeks podcast available from www.standingontheglebe.co.uk and via itunes.We will record a match review on Sunday and get that out to the world
on Monday.
Many thanks to Jamie for his insight into the forthcoming fixture. You can follow Jamie on Twitter via @OnTheGlebe and send him numerous tweets over the weekend, thanking his club for Craig Mackail-Smith!