View from the South Stand - Portsmouth 13/08/11
Brighton and Hove Albion hit the road for the first time this season for a Championship fixure against south coast rivals Portmouth at Fratton Park.
We asked Bill Gillon from Pompey Online, to answer some questions for us.

16th place finish last time around. What was the general consensus among Portsmouth fans about that?
Considering the administration issues, lack of money and threadbare squad, I think most fans were pretty pleased with us securing a mid-table finish and safety long before the end of the season, it was pretty much a minor miracle in my opinion. Cotterill didn't have much to play with during the season and, whilst our first eleven was competitive, there was nothing really behind that, so I don't think we were ever going to be challenging for the play-offs, or anything like that, so a solid mid-table finish, in the circumstances, was more than acceptable.
You've got another set of new owners. Will these guys be any different to their recent predecesors and what does it mean for your expectations for this season?
The new owners, Convers Sports Initiatives, seem to be looking to do things the right way, making some money available and being sensible. They have stated that the want to treat the club as a sensible business, are in it for the long term and want to make the club successful. All the right noises basically but, as always, actions will speak louder than words. First impressions are good for me, we've spent a bit of money in this window so far and have had a sizeable offer for Martin Paterson of Burnley turned down, so it's obvious they are making transfer funds available even though we still need more bodies through the door, which is a definite issue. Considering there's a lot of rebuilding still to be done, I think most fans will settle for another mid-table finish this season, with maybe a push for the play-offs more realistic for next season.

Steve Cotterill became an extremely popular player for Brighton despite the fact he only had a brief spell on loan at the Goldstone. What's the Pompey fans view on him as a manager?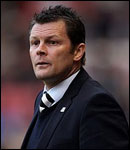 I think it's fair to say that views are split. As I said earlier, I think most fans will accept he did a job which needed to be done last season and did it well, keeping us up with something to spare. This season will be a telling one though, and our recent defeat in the Carling Cup to Barnet didn't go down too well in general, especially as Cotterill decided to only put three players on the bench and didn't give some of our talented academy youngsters a run out, which a lot of fans were calling for. Our recent lack of success in the transfer market is also attracting some comments against Cotterill, although I think personally the fault for that lies elsewhere. Most of all though, some fans are expressing concern about his more direct style of play, which isn't too pretty at times. We'll see how things go there, and whether that changes once he has a more flexible squad to chose from but, for now, I think in general he's seen as having done a job but it's time to show what you can really do now.
You've been quite busy in the transfer market. Who are the key men for Albion fans to look out for on Saturday?

Whilst we have been busy in the market, we still really need some numbers added to the squad. We started the transfer window with only eight confirmed contracted players and, whilst we have brought in a handful to add to that, so can name a team and players on the bench, that is basically it. We need a minimum of five players before the end of the window (or as soon as possible after that if we get one or two loans in as well) and, preferably, a couple on top of that. David Norris will be a key man for us, we've brought him in from Ipswich and he's already proving himself as the new engine of the team, he'll be vital as the season goes on. Luke Varney is also proving a danger from out wide but up front is a concern as we only really have Dave Kitson up there, who can't play up front on his own, with a 78-year old Kanu only able to come off the bench in the later part of the game nowadays. Watch out though for our young Aussie winger, Ryan Williams, who will come off the bench at some point, he's making a good impression.
Most people seem to point at Pompey's recent financial woes as being a result of signing players they couldn't afford thanks to the succession of owners. Was that really the case, and if so was winning the FA Cup worth the financial meltdown that happened?
I'll try to keep this as short as I can.....

Whilst there's no doubt that we overspent, I still say that, in reality, we didn't do anything which a lot of other clubs (eg. Bolton, West Ham, plus most of the clubs in the Premiership to be honest) aren't doing. Where we originally fell down was that our then owner, Sacha Gaydamak, withdrew his funding because of 'outside concerns', so we couldn't service our debts. Now, what those concerns where isn't probably something to be discussed in public, but that, of course, started our issues. Unfortunately, that then led to the absolute farce over the last couple of season with owners such as Sulaiman Al Fahim, the mysterious Ali Al Faraj and the reluctant owner Balram Chainrai. What has happened at Pompey has been nothing short of a criminal farce, we proved victims of a game which was being played by various unscrupulous money men, and the club nearly went under because of it. That can never happen again, and I'm sure the various businesses who lost money through the failings of others will say the same thing because that was unforgiveable. I've been involved in fans meetings, talked to people through time, taken part in protests, I could write a novel about what has happened at Fratton over the last two years or so.

Was the Cup win worth it? I stood at Wembley in tears as we lifted the Cup, it was something I never thought I'd see and that feeling would be difficult to swap. However, if you push me, I'd have settled for seasons of financial stability, proper development of the club both on the field and in the wider community, basically the way West Brom have approached things. What happened to us though was something which you just don't expect though, to the extent which took place, but it's made us fans much more wary.
All of the teams along the South Coast have now moved into new homes bar Portsmouth. Why has it proven so hard to replace Fratton Park and what's the latest on a potential new stadium?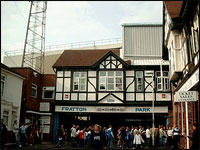 It's more than possible to develop Fratton Park, it just needs somebody with the money to come in and do it. The current stadium could be turned, developed and the capacity increased to between 28,000-35,000 if necessary, the plans are there, it's feasible, the council are agreeable, we own the stadium, it's all ready to go. Sacha Gaydamak still owns the land around the stadium, but an agreement on that can be reached as far as I am aware so, as mentioned, it just needs somebody with money to come in and actually do it. That's where we've been lacking over the last few seasons. Milan Mandarc, before he left, stood beside a JCB as he heralded the start of the stadium development, but Milan being Milan was only ever going to sell the club on for a nice profit. Since then, owners have come in, different plans have been drawn up for various incredible stadiums, none have come to fruition. Fans, in general, would rather Fratton was redeveloped and we stayed in the area we're in, and I think that's what will happen and, in reality, all we actually need. Whether Convers will be the people to do that, we shall see in time. I think that's part of their plan, but one which is part of the future, it's a matter of getting the club back on a solid footing first.
How much do you know about the current Albion side?
I don't know too much about the players in the actual squad, but it's obvious that you've got a good team going down there and Gus Poyet is building something which has obviously got potential, and you can't go wrong with a Bergkamp and a Lua-Lua in your squad. Obviously, the big signing for you over the summer was Craig Mackail-Smith, which was a big coup considering he was being linked with one or two Premiership clubs, how did you pull that one off? Your chairman, Tony Bloom, seems to be doing wonders for the team (being a bit of a poker player and fan, am pretty pleased for Tony as well).
Obviously your big rivals are Southampton and ours are Palace, but a fair few Brighton fans have a dislike for Pompey. What's the feeling like towards us down there?
I've always liked Brighton, I have to admit, and am delighted that you've finally got your new stadium after the years of struggle. The new ground looks fantastic, I had a look at the BBC report on it, and full credit to the people who are responsible for that. In general, I think our fans see Brighton, obviously, as rivals and one of the local derbies, but it's more of a 'friendly' rivalry compared to the one with Southampton (which, personally, I could do without as I hate the atmosphere around it). As with all things, with us both being south coast teams, you're always going to get opposition fans who dislike you but, by and large, as I said I think it's more of a friendly rivalry with Brighton and, from what I have seen and read amongst our fans, I think there's a general feeling that it's good to see you finally on the right track.
Who do you think are likely to be the main contenders for promotion and relegation in the Championship this season?
I did a season preview before the first round of games. Obviously, you've got the big spenders such as West Ham and Leicester for whom anything less than promotion will be seen as a failure (and, potentially, for West Ham would be seen as financial disaster). For the play-offs, I've forecast Nottingham Forest, Ipswich, Reading and Cardiff, who are all good sides, with talented players and should do well over this season. The thing is though, this is probably the most competitive Championship for years, outside the top two or three you could basically stick a pin in to see who could be in with play-off chances, any team could really beat any other.

For the relegation places, I plump for Coventry, Watford and Peterborough, although Doncaster could struggle now they've lost Billy Sharp for a time (though they do have Sean O'Driscoll in charge, who I really rate as a manager).

For info, I've got us finishing in tenth (assuming we actually get some more players in) and Brighton finishing not far behind in twelfth, with my comments regarding the Seagulls being "Blasted through League One last season, and they come into this season on a wave of optimism with the long awaited move to their new ground which, indeed, looks fantastic and extremely well designed. Saying that, I'm sure the Seagulls fans will be looking to consolidate this season (although Norwich fans were probably saying the same thing a year ago) and the purchase of Craig Mickail-Smith was a surprising recruitment, although obviously a welcome one. Will be interesting to see how they go this season with the move to Falmer". Hope they were fair?
What do you think the score will be on Saturday?
Have to admit, I'd settle now for a draw. We're still short of players and a fully flexible squad, and are fairly limited still on how we can set up, especially up front. Even though we scored two against Middlesbrough, we'll struggle to score goals just now and, with Brighton being on a good run, then I know it will be a difficult game. The players are making noises about wanting to make amends for the performance against Barnet in midweek, so we shall see. I'll go for a 1-1 draw but, whatever happens, hope we all have a good game and enjoyable day! Good luck for the rest of the season.
Many thanks to Bill for his insight into the forthcoming fixture